If you're going to own a nice pair of leather shoes (which you should), it makes sense to give them some consistent TLC to extend their looks over a long period of time. Rather than going to a professional, paying $10+ a pop and having to make awkward small talk, why not learn how to polish up those puppies at home?  Now… "go and get your shine box Tommy!"
What You'll Need
Water – For that attractive spit-shine-style finish.
Shoe Polish – There are two options here: cream and wax. The polish you choose will depend on the type of finish you are after.
Cream – Produces less shine. As it's absorbed, it moisturizes the leather. Be careful though, as cream can alter the color of the leather.
Wax – Provides a traditional shine, while also covering up scuffs and blemishes.
Old Toothbrush (or Welt Brush) – An old toothbrush is required to help get the dirt out from the welt strip in your shoes and ensures you can get polish to the harder to reach spots.
All-Natural Brush – Natural hair brushes will better distribute the polish when buffing. It's important the brush is tough, but not so harsh it scratches the leather.
Polishing Rag – There are specially-designed clothes you can purchase for shining shoes. However, an old t-shirt or another rag will do the job just as well.
Clean Cloth/Rag – Removes any excess polish and cleans your shoes.
Old Newspaper – For filling shoes while you work on them – you can also use shoe trees.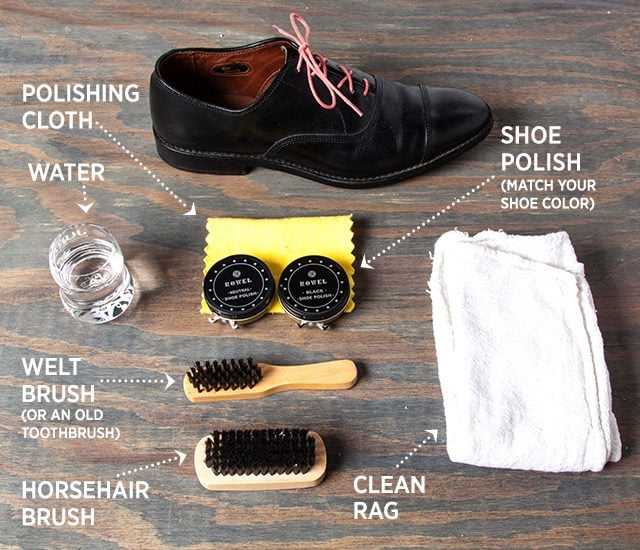 One Step At A Time
Step 1: Before you put any polish near your shoes, remove the laces (if they have them.) The last thing you want is laces covered in polish (that would be truly devastating).
Step 2: Fill each shoe with old newspaper. It goes without saying you can use any paper really, but it's probably best to keep the comics safe.
Step 3: Use a toothbrush to remove any dirt and visible debris. The toothbrush will be especially helpful where the leather meets the sole of the shoe. You can add a small amount of water to your rag to gently remove excess dirt.
Step 4: Wait for the shoes to be completely dry after step 3, then use the polishing rag you've selected and apply the polish. It's best to use circular motions as this warms the wax and ensures it spreads more evenly.
Step 5: Take the all-natural brush and go over the whole shoe to bring out a natural shine in the leather. Then, give the shoes a good buff using quick, side-to-side motions like you see on TV.
Step 6: Wipe away any excess polish from the shoe using the clean rag.
Step 7: The term spit-shine doesn't have to be taken literally here — dip your polishing cloth into water and gently rub a small amount of wax in tight circles over the shoe for that expert finish.
Finally: Give your shoes at least 10 to 20 minutes to dry off before wearing them.