Whether it's $100 or $1,000, there's a Timex out there for everyone. Weddings, vacations, parties, even casual nights out, a watch is an easy accessory to up a man's style in any situation – so if you can't find a Timex that suits you, you're not looking hard enough. These five Timex timepieces run the gamut of price, style and ingenuity, giving even the hardest-to-please watch fanatic something to think about.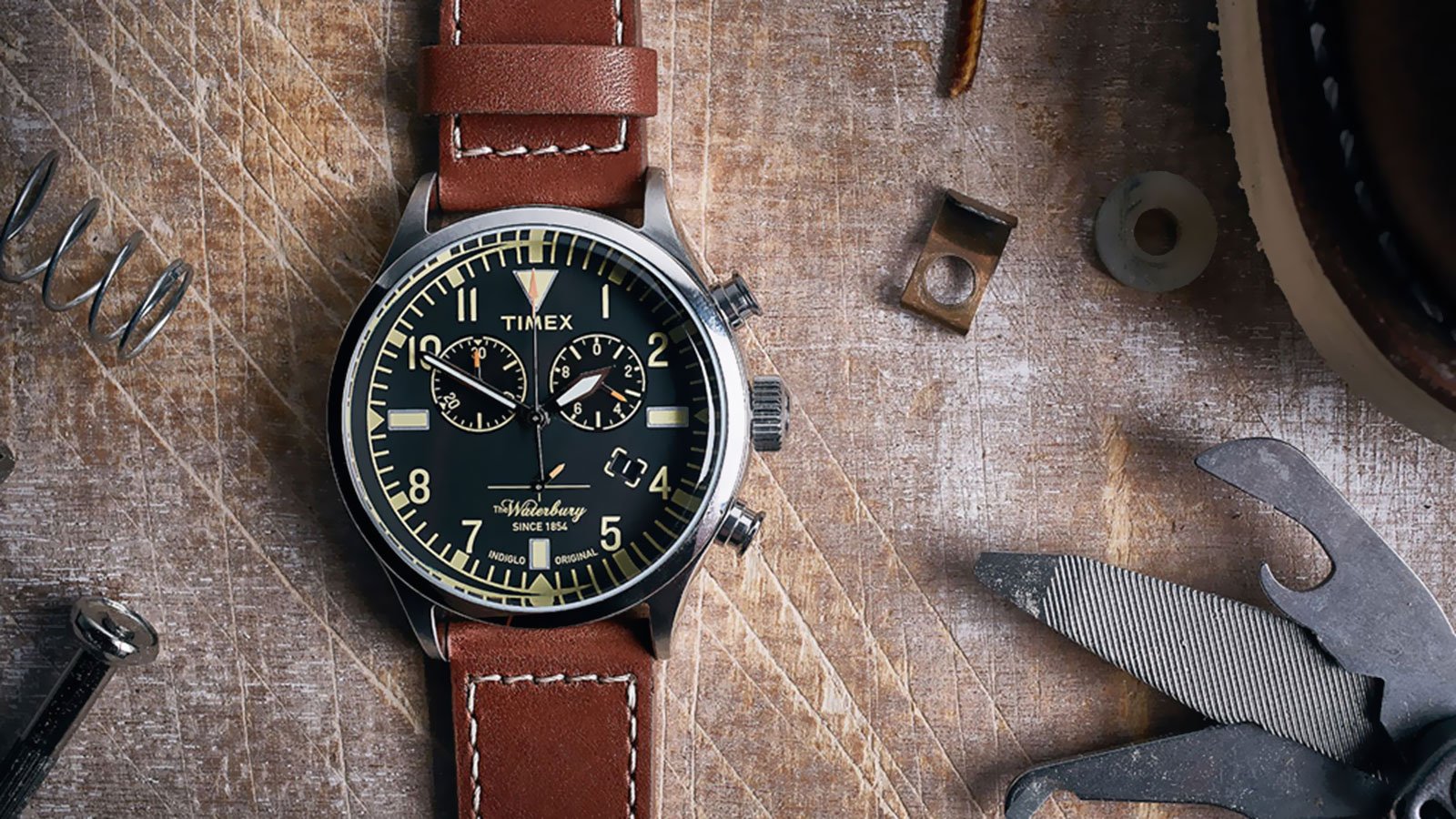 Marlin Hand-Wound 34mm Leather Strap Watch
A classic throwback to the past. Something any watch fan — amateur or not — instantly notices about the Marlin Automatic is its size. At 34mm, it's a bit smaller than most of the watch faces you'll see here, but that's just one of the selling points of this reissue of Timex's classic 1960's timepiece. Pairing stainless-steel with a domed glass lens, Timex fully embraces the "signature of mid-century watch designs." It's a dress watch that isn't too dressy, but also strays from the more casual vibe of many Timex pieces out there.
 Because the Marlin isn't automatic, you will have to wind this every single day in order for it to keep the correct time. Luckily, there's an automatic version for those who aren't the winding types.
Straddling the line between retro and nerdy, this classic digital watch is an ice-breaker and conversation starter all rolled into one. It may not be the fanciest timepiece you'll ever lay your eyes on, but the Timex Men's Classic Digital Watch is definitely one of the most unique. The durable and lightweight silver-tone resin case means it can tough-out whatever you put it through.
It's all in the name – The Weekender is Timex's bread and butter. This is their signature watch and its durability is why this brand has managed to stay relevant for 165 years. With the collection ranging in sizes, colors and price-points, it's pretty fair to say that there is a Weekender out there for everybody.
With the sheer variety of companies out there selling Weekender straps, finding one that matches your mood/personality is almost too easy. The one con? There's no date on the watch face, so you may lose track of the actual weekend.
"Like Coca-Cola or Calvin Klein briefs, a Timex watch is always effortlessly cool and timeless. One of their new watches, The Weekender, is stylish, sharp, and rugged…" writes GQ.
The American Document collection 
The newest edition to the Timex family, consider this collection a testament to American ingenuity, with nearly every part of this watch coming from America. The crown details honor Timex's early Connecticut roots, while the hand-polished top ring is individually turned in a proprietary process for an exact fit. Even the watch band uses American-sourced hides from S.B. Foot Tanning in Red Wing, Minnesota.
"The American Documents project was an enormous challenge for Timex because it involved working with more than a dozen new suppliers and production partners in the United States," writes Ariel Adams for ABlogtoWatch, "The beautiful irony is that the American Documents project allowed the Timex of today to rediscover what it means to be an actual watchmaker. This involves not only designing and sourcing the necessary parts but also actually having to hire watchmakers and the requisite staff to assemble and test the final products."
Interestingly enough, the only aspect of this watch that strays from the Americana theme is the Swiss-made quartz analog movement as there apparently are no American movement parts that satisfy the Timex team just yet.
It's sleek, it's sexy and it's way under $200. To craft a watch that melds minimalism with luxury for a fair price is something too many watch brands struggle with and often fail at launching. The Timex Waterbury Classic is just one of the many watches in the Waterbury collection that gives you that instant bump of class when worn.
The Waterbury collection has a timeless, clean design and is available with both bracelet and leather strap options," says says Silvio Leonardi, SVP of Timex Group "In my opinion, a bracelet watch can be dressed up or down and offers versatility when styling."
 The 40mm matte black case and black leather strap gives this timepiece a mysterious vibe while the large, clean face makes you wish everyone would ask you for the time.