Miracle-working "privates" potions, commonly known as men's powders, are an invaluable ally in the battle against moisture, chafing and the resulting discomfort and odor in a man's nether-regions. In recent years, these grooming stalwarts have advanced beyond what gramps used to slap on his boys and are now available in a variety of formulations that are effective for athletes and cubicle-dwellers alike. We want to give you the "powder" to choose the right stuff for your shorts to fight off what in some circles are known as "bat wings" or "the flying squirrel."
TALC-BASED POWDERS
The most traditional solution, talcum powders are what's generally thought of when referencing men's powders. They'll keep a guy dry all day and quickly absorb moisture to prevent chafing. Plus, being the standard formula, they can be purchased in a variety of scents and consistencies.
NATURAL CORNSTARCH-BASED POWDERS
Anyone who has ever cooked with cornstarch knows it's great for thickening because it rapidly soaks up moisture. It works the same way on a man's junk. Although it won't keep you dry for as long as a talc powder, some men really enjoy the comfort gained via the friction-reducing properties of starch. And, for guys with talc allergies, it's the only and most natural way to go.
SPRAYS, GELS AND OTHER MIRACLES
Powders are now available in a variety of innovative forms. Dry Goods has pioneered a point-and-spray powder, which has all the performance of talc with none of the mess. Fresh Balls makes a one-of-a-kind gel that turns into a powder on contact for application that's both mess and guess-free. These options are the best for those desiring a flake-free bathroom floor.
THE POWDERS THAT BE:
Like any other solution, there's no one perfect product that works for every guy. Here's four of our favorites and their key traits:
Talc-based
The best parts of all powders combined: light, absorbent, comfortable and smells great
Can be used anywhere additional comfort is needed
Talc-based. Balla was the original!
Comes in 3 great scents: Original, Tingle and Fragrance-free
Alcohol and aluminum-free
Natural cornstarch-based
Great Lavender scent with a little tingle from Green Tea
Friction-reducing properties for maximum comfort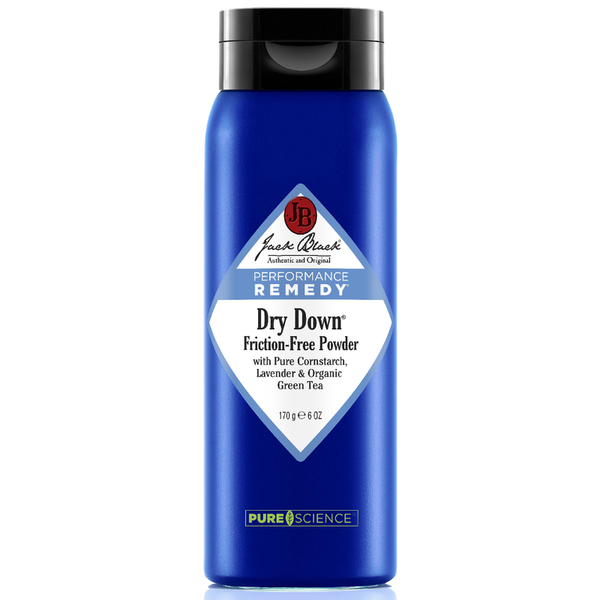 Dry Goods Athletic Spray Powder
Spray-able formula means no mess and less waste
Talc-based
Comes in original and cooling menthol
Have any other suggestions for keeping things copacetic down below?  Please let us know.