It's funny to think back to the days of D.A.R.E. and the off-duty police officers who'd spend hours drilling the "dangers of marijuana" into your head before going home and undoubtedly hitting the bottle.
Did you know that smoking one weed joint is the equivalent of suckin' down an entire carton of cigarettes? No? That's because it isn't true; but in the '90s, anyone with a scrap of authority could get away with spinning lies about marijuana to fresh-faced, impressionable kids.
Now, everything's different: weed is legal in just under a dozen states and decriminalized in a handful more. Sprouting up in this revised landscape are scores of businesses taking advantage of the marijuana renaissance (i.e. marijuanaissance) and putting out some seriously amazing products out into the world. Now, former D.A.R.E. students — and let's face it, teachers — can enjoy marijuana in a myriad of shapes, sizes and forms. While we still have a long way to go before marijuana is normalized, we can clearly see a shift in the way of thinking when it comes to this magical plant. Here are some companies who've made strides in innovation with some seriously exciting marijuana-based edibles, joints, and products:
This lube, touted as a "self-care line for humans with vaginas and humans without vaginas who love vaginas," is made with all-natural, plant-based THC and CBD. Quim's mission is to make sex — an already enjoyable activity — as fun as possible with their collection of marijuana-infused products. We highly recommend Night Moves — a blend of MCT Oil, Cannabis, Tea Tree Oil, and Damiana that's, not only perfect for sex, but actually acts as a proactive vaginal health supplement and moisturizer. So, why go the weed lube route? Marijuana is easily absorbed through the vagina and makes sex all the more enjoyable by augmenting one's sex drive and enhancing the sensation down there. Quim has also perfected a latex-safe serum designed to intensify sensation, stimulate libido, and increase natural lubrication without harming condoms. Once you have sex with weed lube, you'll never go back.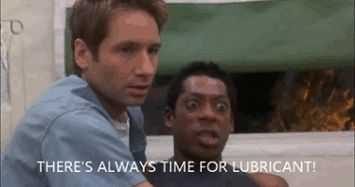 Launched in Southern California in 2014, Island focuses on pre-rolled joints using seasonal, single-strain marijuana sourced from a network of small farms across California. You will never find a product line as handsome as Island's pre-rolled joints and mini-joints.
"Many companies use blended strains or fill their pre-rolls with older excess flower they would otherwise throw away," says Ray Landgraf, CEO and Founder of Island Cannabis. "Our joints are single strain, and the flower we use in our pre-rolls is the same freshly-harvested, top-shelf flower Island is known for." Unlike the weed of yesteryear, Island focuses on putting quality and consumer safety first, intentionally positioning themselves as the weed for a broader audience that is inclusive of those who have never consumed — along with longtime smokers. You couldn't find a better way to bridge the gap between smokers and first-time smokers with the Island Minis — cocktail wiener-sized joints that pack a punch for such a small package. There's a dick joke in here somewhere.
Emblazoned with an electric big and blue logo reminiscent of an 80's new wave band, Higgs is the company making weed look fucking cool again. If Island is for beginners, consider Higgs the expert's pre-rolled joints. With two available strains — Black and White — offering two bespoke smoking experiences, Higgs puts control in the hands of the marijuana smoker. Each stylish pack comes with six pre-rolled joints with about an eighth of premium pot carefully packed for adventure. Black offers a "calm, relaxing and blissful experience," while White promises "energy, euphoria and focus." It's a real "to each their own" experience, but you'll never feel a high as lovely as the moment the euphoric White hits your bloodstream.
Smoking weed isn't everybody's cup of tea, making the cannabis-infused sublingual slips a must-have for a dreamy weed experience. Made from a blend of Cannabinoids, Terpenes and vegan ingredients, Kin Slips are almost too easy to take in: place the slip under your tongue, wait, and away we go. Cannabis actually works better when absorbed sublingually (under the tongue). Traditional edibles like brownies or cookies can be "distorted by stomach acids and then broken down by the liver" thus dampening the effect of the THC, giving you a less intense high. Capitalizing on the trend of consumers striving to find the strain that suits them best, Kin Slips offers four varieties of varying strains and strength for the picky pot smoker: Cloud Buster, Float On, Park Life and Shut Eye. We recommend Float On — a blend made to take the edge off after a long day of work. They taste fantastic, take only 10 or 15 minutes to work, and are totally discrete just in case you live in a state sticking by its puritan roots.
"My background is actually in science," says NUG CEO/Founder Dr. John Oram, "I have my Ph.D. and M.S. degrees in environmental chemistry and engineering from the University of California Los Angeles and my bachelor's degrees in analytical chemistry and biochemistry from the University of Colorado at Boulder."
That's right: a weed company founded by a scientist. The aptly-named NUG focuses on edibles, selling mouth-watering products like cannabis-infused milk chocolate, dark chocolate, matcha chocolate, salted almond and mocha crunch. Each bar offers about 100 milligrams of THC, giving you plenty of action in one Hershey-sized package. This year, NUG launched a line of micro-dosed gummy edibles infused with 2.5 mg THC per serving.
"Our customers can choose their own adventure," continues Dr. Oram, "We're also known for our award-winning chocolates, developed by Edibles Department Director Tyler Cooke, an experienced chef who has worked in restaurants all over the world."