Are you on the hunt for a new pair of jeans? If you're a guy pushing forty, you're probably not pulling off a tight skater style or those new-fangled dropped crotch joggers. And that's a good thing! You will find the perfect pair if you skip the trendy skinnies and avoid wandering too far into Dad Jean territory. Here are a few tips to keep in mind when shopping for denim for grown-ups.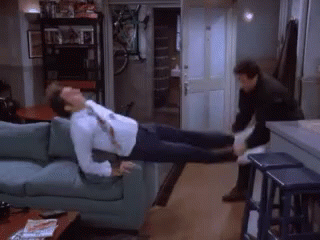 Find Your Silhouette
Picking the perfect pair can be confusing, to say the least. There's skinny, slim fit, relaxed fit, straight leg and boot cuts to name just a few. The best way to get started when choosing denim for grown-ups is to figure out both your budget and body type. Whether you're a long lean machine or built like a bodybuilder there's a pair at the right price for you. Try them on. Do they make your butt look good? It's important to pay attention to the size of your pockets and make sure they aren't too small, as they'll make your ass look too large. And while you're at it, skip the bedazzled pocket detailing and big stitching too. Capisce?

Wash This Way
It's always best to let your denim fade, whisker and rip naturally over time. Maybe you rocked those faded acid washed jeans back in high school, but now they just don't stand up. While adulting in a work or dating situation, dark denim is the most versatile and just looks more polished. To keep them dark, wash them inside out on the gentle cycle and only when absolutely necessary, which is way less than you think. Give them a good whiff and decide from there.

Get Fitted
Don't be afraid to take your jeans to the tailor. This goes for all your clothes but is essential for your jeans. Spend the extra couple of bucks to get them just right, and you'll find you get more wear out of them. Don't drag a frayed hem on the ground and don't cram yourself into a pair of skinny jeans either. Pay particular attention to the rise. If we can see your plumber's crack, your jeans are too low. You should be able to slip two fingers inside the waistband even without a belt. Let them sit on your hips without falling down while they lightly hug the boys without sagging or strangling them.